Warlords – Crystals of Power
Top Dog Slots is the ideal casino for playing Warlords: Crystals of Power for a number of reasons. From the free spins welcome pack and the generous payouts to the compatibility on smartphones and tablets, Top Dog Slots has got you covered.
Rules
Fundamentally, what underpins the Warlords Crystals of Power slot is that NetEnt has designed the game with 30 fixed paylines and only charges players the cost of covering 15. For example, it will be possible to stake a £0.15 minimum and play for all 30 of the fixed paylines.
 Then, by rising the betting level to 10 and the coin value to £1.00, it will be possible for high rollers to stake a £150.00 maximum on the Warlords slot. For convenience, players will have the option of assigning a set number of spins at their preferred wagering level.
Multipliers
The technical numbers are also important to understand in this Warlords slot review, as they give you a clear sense of what is possible to be won during your gaming session. For starters, the 96.89% return to player (RTP) is higher than many other slot games on the market, while the top jackpot of 1,000,000 coins speaks for itself.
 Warlords has an array of original symbols, with the three main characters boasting the highest values in the main game. These are displayed as stacked symbols covering three rows and can deliver the following multipliers with a complete match of five:
Red Samurai and his wolf: 300x
Green Priestess and her panther: 200x
Blue Barbarian and his warthog: 150x
Features
Warlords has the ever-present wild symbol. In this case, it subs for everything but scatters and can be worth up to 300x with a match of five. However, there is much more excitement whenever you trigger the more advanced special features:
Random Overlay Wild: This might be activated at random on any spin that occurs in the standard game. The feature will result in one of four outcomes, including Barbarian Hammer (four wilds), Priestess Arrow (two to five wilds), or Samurai Sword (two to five wilds).
Scatters: There scatter symbols dedicated to the Barbarian (blue), Priestess (green), and Samurai (red). The combination will lead to different variations of free spins, multipliers, and even sticky wilds.
Battle: Two different scatter symbols will result in a battle between the two Warlords. There will be a 50/50 chance that either can win, with the champion becoming the active scatter. An even amount of scatter will result in the odds shifting to mathematically reflect the advantage (e.g. 75-25 for two vs. one).
Re-spins: All active scatters will remain in place during re-spins, making it easier to create the most beneficial combinations.
Final Chance: This special feature can rescue the chance to trigger free spins if these are not triggered in re-spins.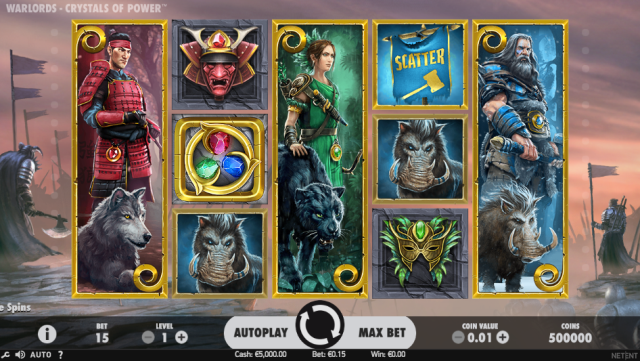 Tips
Warlords will deliver best winnings through the special features. As a as result, your optimal approach is to try and gain the most spins possible. This can either be achieved through lowering the stakes or else playing for re-spins and free spins.
The design is gorgeous from the outset, with players introduced to the three principal Warlords and their spirit animals through a stunning video. Intro videos are a major reason why NetEnt is able to include such compelling story elements into slot games. Overall, the entire experience is consistent across all compatible screens.
Summary
Warlords: Crystals of Power is another ambitious epic that has been successfully realised in video slot format by NetEnt. The story elements are a fantastic initial draw, while the special features create a further connection through their well-thought-out design.