Twin Spin
Top Dog Slots will give you up to 500 free spins on your 1st deposit! Then, try out all manner of games, such as the visually impressive retro experience that is NetEnt's Twin Spin slot.
Rules
Before playing Twin Spin, it can be extremely helpful if you are made aware of the wagering rules. Basically, you will have a broad array of options by adjusting the coin value and the level button in unison in order to find your ideal stake.
The logical starting point is to assign the coin value from £0.01 through a range of options that can climb right up to £0.50. But what you must also factor into the decision-making process is that the betting level will have an impact depending on where you set it between one and 10.
This wagering system will offer you the ability to stake £0.25 as the absolute minimum, while the absolutely maximum can rise all the way up to £125.00. From a functional standpoint, this five reel slot operates as if it has 25 fixed paylines, but you will have 243 ways of winning.
Multipliers
Having 243 ways of winning means there will be numerous ways of matching symbols to start earning. At the top of the scale, Twin Spin will offer the potential for players to win up to 270,000 coins in a session. That is the dream scenario, but there are plenty of other chances to win on this slot with a 96.6% return to player (RTP).
Slot designer NetEnt has made two of the symbols much more lucrative than any others. By matching five red 7s, you will be rewarded with a 500x multiplier. But it will be even more exciting if you match five blue diamonds to receive a greater 1,000x multiplier. You can check the table for the complete list of multipliers and payouts.
Features
Twin Spin's most basic feature has got to be the wild symbols. These are quite basic in that they have been included as a means of plugging the missing spots that can often appear on paylines. Twin Spin is not loaded with special features, so it is really helpful to have wild symbols.
Twin Spin Feature
The more impressive feature is the one that is named after this slot's title. Basically, the Twin Spin feature will start by matching two identical reels that spin together – these are chosen at random. This feature can also randomly increase to link all five reels together to deliver guaranteed winnings on your chosen stake.
Tips
Twin Spin is a slot where the target is to win from fewer spins. Sticking around for a while will not bring up the possibility of free spins or bonus rounds, so you have to aim for the multipliers. Along the way, you can also benefit from the Twin Spin feature when it rises high.
Design
Twin Spin is more basic compared to some of the story-driven NetEnt slots, but this completely suits the retro style that has been cultivated. To make that happen, NetEnt has added a selection of classic retro symbols and neon colours.
In terms of the symbols, the main ones include familiar images such as cherries, bells, and diamonds. To fill out the remaining symbols, NetEnt has designed neon versions of playing cards and include them as well.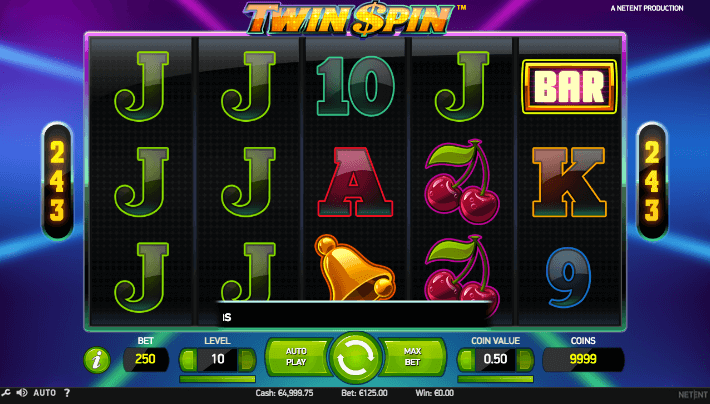 Summary
NetEnt's Twin Spin slot UK has been a staple of the marketplace since being released a couple of years back. Twin Spin slots have continued to be popular because of their ability to deliver highly impressive payouts when the reels match up.