Santa's Wild Ride
Boys and girls all over the world wait patiently for Santa Claus to arrive on Christmas Eve. For children, this can be the most exciting part of the holiday season. Here at Top Dog Slots, Santa's Wild Ride slot is the dream scenario for adding to your festive experience.
Design
Santa's Wild Ride is one of the classic slots to be developed by Microgaming. In this realisation, Santa Claus is more fun loving than the traditional image of Saint Nick. This time, Santa enjoys driving around on a motorcycle and knocking back pints of beer. Of course, he still finds time to deliver presents with the support of his elves and Mrs Claus.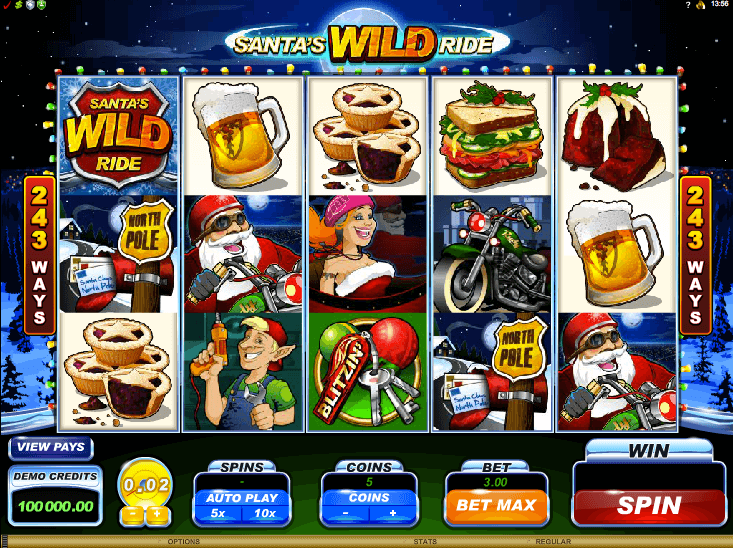 Rules
The rules are quite simple, with Microgaming opting for 243 ways of winning rather than offering paylines. As a result, players are required to spend at least £0.30 on every spin, even if they only stake one coin over the five reels. Players who want to up the stakes can go all the way to five coins, with the max bet valued at £30.00.
Multipliers
The headline news is that Santa's Wild Ride will give users the possibility of playing for up to 1,900,000 coins, so the jackpot is immense. However, the more common occurrences will be to match up the base game symbols. They can be matched up to five, with the most profitable including Santa (200x), Mrs Claus (175x), and the smiling elf (150x).
Features
There is a sleigh-full of bonus features that are designed to get players on a winning course. Watch out for these options appearing during the action:
Santa's wilds: These have the potential to be stacked, expanding, or trailing. Whichever emerges, it will be easier to create winning symbol patterns.
Free gifts: Reels two and four are extra special because they carry the potential for Santa to hand out free gift bonuses to good players.
Free spins: Santa's Wild Ride can deliver up to 25 free spins whenever you can land three or more of the key symbols on the screen.
Tips
This Santa's Wild Ride slot review is now going to share a brief selection box of tips to support your gaming strategy. First of all, the 96.47% indicates that a long-term strategy can pay off if you are able to stick around to build up multiplier winnings.
Secondly, you can earn a good boost in the short-term through the arrival of wilds, free gifts, and free spins. These various presents can arrive at a moment's notice, providing a much-needed boost. Try lowering the stakes if you want to have more attempts to unlock the many bonus features.
Why Play at Top Dog Slots
The Santa's Wild Ride slot mobile interface has been painstakingly designed to offer smooth performance over major platforms, such as Android or iOS. After settling down to a gaming session, you can look forward to the potential emergence of multiplier winnings and bonus features. Join Top Dog Slots today to go on Santa's Wild Ride.